Instagram
毎日更新中♪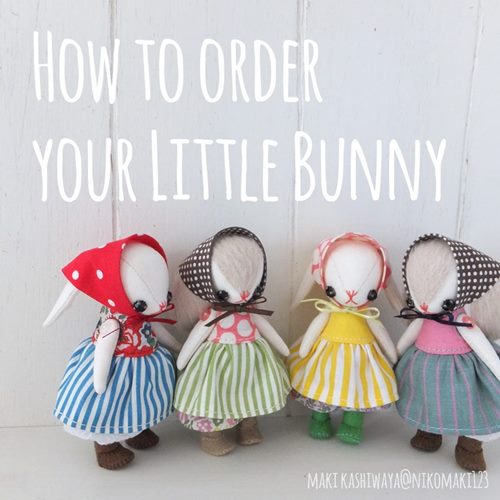 How to order your Little Bunny
(日本語ページは
こちら
です♪)
Order: Sorry, I'm busy now. Please wait for next order acceptance.
(January 2017)
It would be very nice if you could understand the following before ordering;
Since it takes time to communicate in English for me,
- I cannot accept several orders at the same time. If I have already had an order, please wait for next order acceptance.
- I might have a customer waiting because I cannot reply promptly.
(I wrote this page with my friend's help :) )
Thank you.
■Steps
1 Please contact me via an e-mail.(nikomaki123☆gmail.com ☆→@) If you have an Instagram account, please let me know your username.
2 If I can accept your order, I ask you some questions about your bunny.
3 We discuss details of the bunny with using sketches and photos of materials.
4 I start making.
5 You check the face of the bunny.
6 You check a finished piece (about a month after start making).
7 I put the bunny on Etsy (then you make payment through Etsy).
8 The bunny will be sent once your payment has been accepted.
■Details of Little Bunny
This is a collectible item. It is not washable and not suitable for young children and babies.
Material: Ecru cotton (please let me know if you have the desired color.)
Stuffing: Synthetic fiber
Joint: Button jointed (a neck of the bunny is not movable.)
Eyes: Acrylic button (black)
Costumes: Cotton,etc
Size
From head to foot: 9cm
(include bunny's ears: 12cm)
They cannot stand on their own but they can be done with putting boots on.(Check out this video on Instagram→
★
)
A basic set of costumes (changeable)
- one‐piece dress
- pair of boots
- coat (hooded coat or collared cort)
- drawers
■Price
25,000 JPY (price as converted using the prevailing exchange rates)
+ shipping fee
+ fees for options
(it is subject to additional fee if you wish to add other items; one-piece dress 1,000 JPY, drawstring pouch type-Little Bunny house 3,000 JPY, etc.)
■Shipping
Items are shipped by EMS from Sapporo, Japan.
Express Mail Service has an insurance and a tracking number.
Your items are normally shipped within 2-3 business days after payment is cleared except during weekends and holidays.
■Links to my works
Blog category:
"
チビうさぎ/Little Bunny
"
"
ぬいぐるみ写真絵本/nuigurumi picture book
"
Blog posts:
"
チビうさぎ用バブーシュカの作り方 (How to make a babushka)
"
"
チビうさぎの遊び方 (How to play with my Little Bunny)
"
Some of pages above are written in Japanese only but you can see many photos of Little Bunnies. Please check it out!
Please feel free to contact me if you have any questions.
I hope that you will be happy with my bunny.
Thank you for dropping by :)
Maki x
website
/
nikomaki*web shop
/
minne
/
Facebook
/
Instagram
/
society6
にほんブログ村